Augering and Flushing Storm and Sewer Lines Services

Commercial Drain Service in the Edmonton Area available 24/7, performed by a team of highly skilled and trained technicians using the latest technology.
Or Fill Out the Form Below: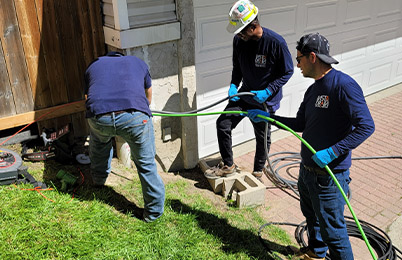 Please contact us to request a quote, schedule an appointment, or if you have a water or sewer emergency and you need a technician immediately.
Augering and Flushing Storm and Sewer Lines
Root invasion, and accumulation of corroded rust and grease, among other hard-to-dissolve debris, are the main causes of blockages in sewer line pipes.
Faced with this situation, Instadrain Inc. as a leading Drain Liner Installation Solution company offers a vast team of experts specialized in pipe cleaning, repair, replacement and lining.
We completely remove and minimize the remains of adhesive materials or sedimentation to efficiently unclog the internal blockage and prevent future blockages.
Augering And Flushing Storm And Sewer Lines Service is transparent, accurate, professional, specialized and available 24/7 in the Edmonton area.