SEWER LINE REPLACEMENTS Service

Commercial Drain Service in the Edmonton Area available 24/7, performed by a team of highly skilled and trained technicians using the latest technology.
Or Fill Out the Form Below: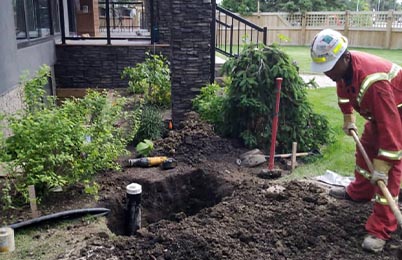 Please contact us to request a quote, schedule an appointment, or if you have a water or sewer emergency and you need a technician immediately.
Sewer line repair and replacement in Edmonton
Do you have a sewer pipe that needs repair? Then we've got you covered. 
Using the most efficient method and the most advanced technology, Instadrain specializes in offering the most effective solutions to any sewer line clogging issue and any sewer line repair. We offer this service as part of our standard sewer line repair service. 
What kind of problems do we deal with?
Thanks to our revolutionary Sewer Lines Video Camera Inspection System, we can accurately detect the source of the problem to save you many headaches and thousands of dollars.
As a leading company that offers the Best Sewer Line Repair Service in Edmonton, our technicians are highly qualified to carry out a safe, accurate, and thorough procedure.
So if you have a sewer backup, notice a sewer smell or strange stench or water around the floor drain in the basement, stop using water. Contact our Edmonton drainage solutions technicians right away to prevent the problem from getting too severe.