Commercial Drain Service in the Edmonton Area available 24/7, performed by a team of highly skilled and trained technicians using the latest technology.
Or Fill Out the Form Below: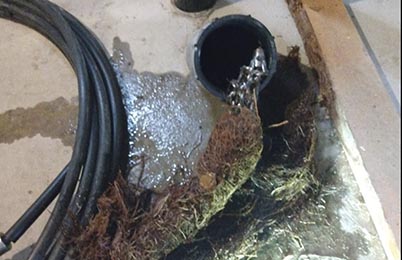 Please contact us to request a quote, schedule an appointment, or if you have a water or sewer emergency and you need a technician immediately.
The slightest crack in a sewer line can be a terrible risk for the fine fibers of tree roots to move inward in search of water sources. Our goal at Instadrain is to provide a permanent solution to that problem with our Sewer Line Root Removal Service in Edmonton.
So why choose us for Sewer Line Root Removal in the Edmonton Area?
Root overgrowth around and inside pipes causes water leaks, clogs and solid waste buildup that further aggravate the problem and impede the flow and circulation of sewer water.
Therefore, if roots in the sewer line are not removed on time, the drainage system could collapse. This could expose public safety to unpleasant odors, feces, disease, bacteria, seepage and possible flooding. Call us at any time of the day to get the roots removed in the Edmonton Area.